Leila wrote to us, "I'd like to replace my roof and turn this attic into a livable space without making the house look too big . . . any ideas?"
Great question! Many people love their homes but want to expand their available living space. Leila's 2-bedroom Craftsman needed a complete roof rebuild, so we took the opportunity to raise the roof a few feet and create the expansive master suite she'd been dreaming of. She wanted to incorporate as many natural elements as possible, so her new space combines elements of wood, stone, steel, and natural light.
Features:
Raised roof with skylights
Reclaimed oak hardwood floors, ceiling, and cabinetry
Custom laser-cut railing panels
Balcony with French doors opening to views of the garden and city
Barn door entryway to the bathroom
Shower wrapped in 'rustic wood' porcelain tile with a micro-pebble floor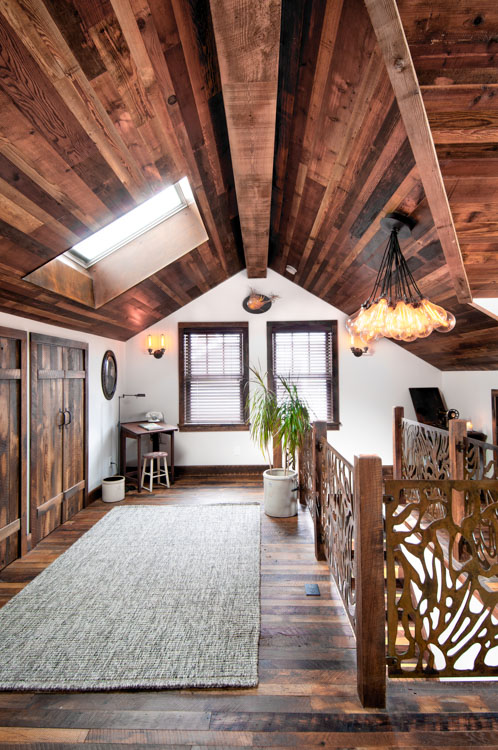 Roof
The new roof was raised several feet above the previous roof to create a livable second story while still maintaining the original charming Craftsman feel. We wanted the new addition to feel open, spacious, and free of structural collar ties or any additional load-bearing supports. To accomplish this, a large steel ridge beam spans from one gable end to another to carry the full roof load down to the outer concrete foundation walls.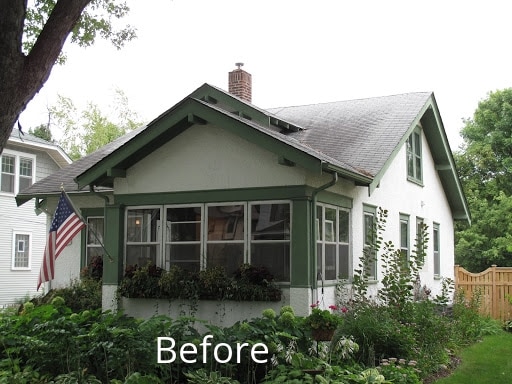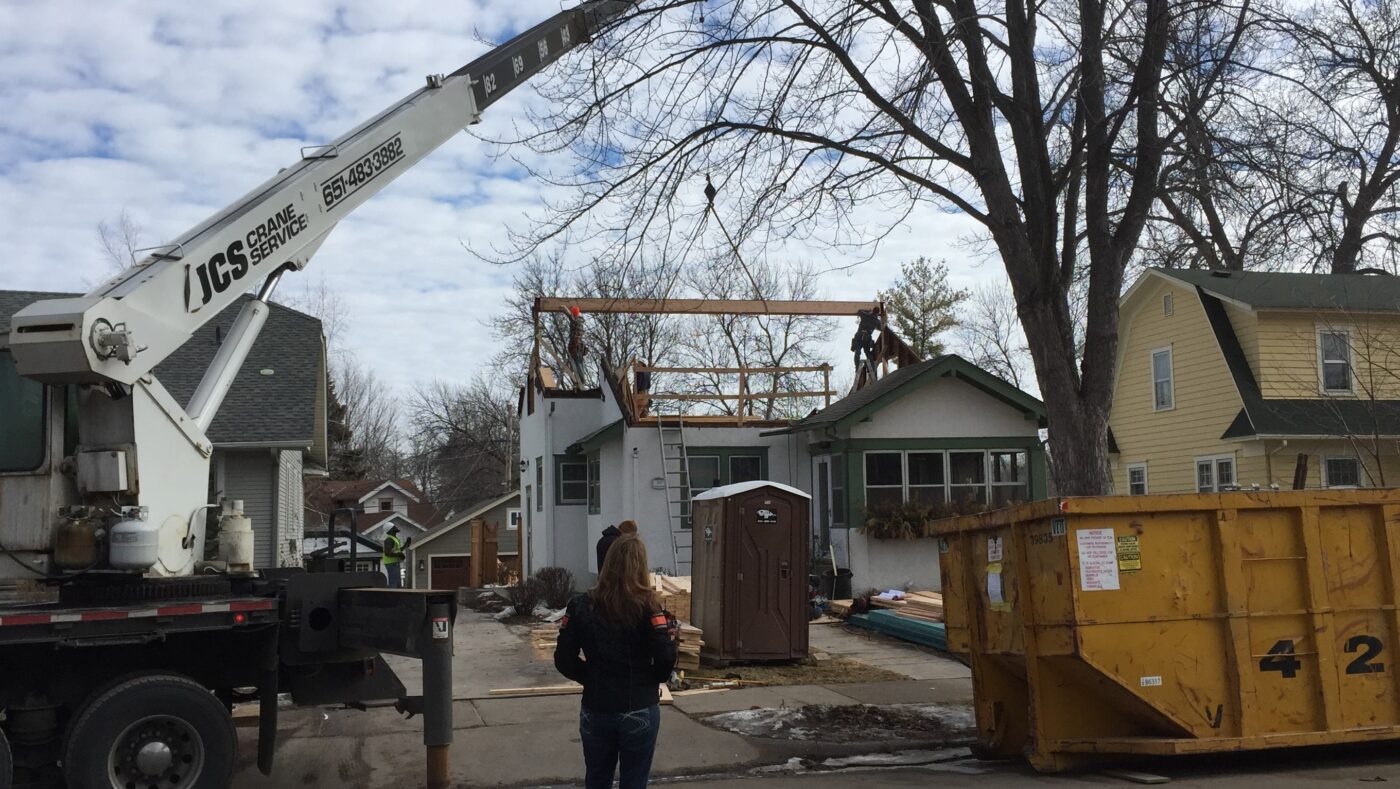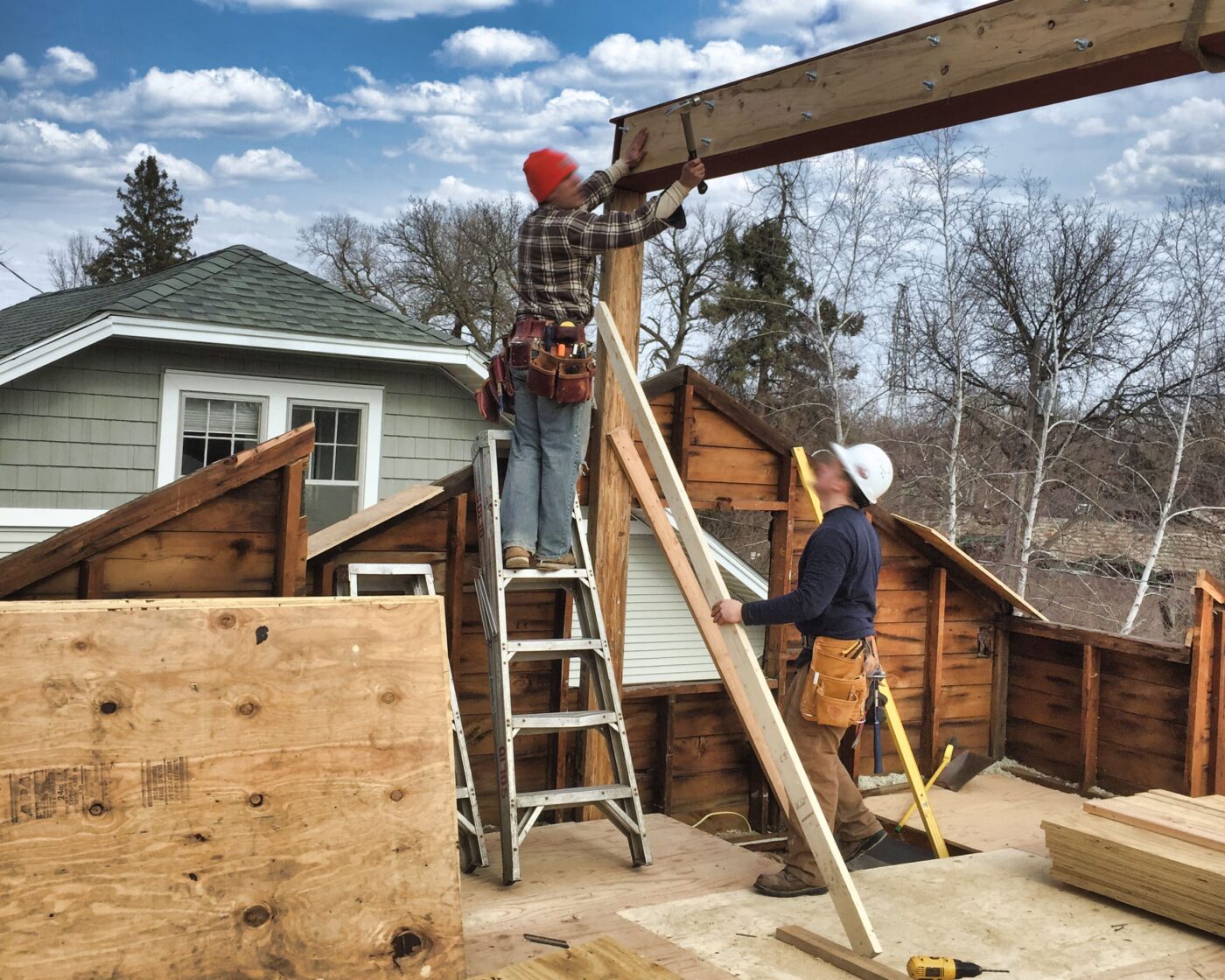 Warmth
Built for Minnesota winters, Leila's space incorporates some of the best techniques and products available for energy efficiency and insulation:
2×6 walls and deep roof rafters filled with with closed-cell foam insulation each provide high R-values (an insulation measure)
Marvin low-E, argon-filled thermal windows and Velux skylights complete the building envelope to provide comfort year-round.
Reclaimed Wood: Beautiful and Challenging
Leila loved the look and feel of reclaimed wood, and was excited to use as much of it as possible in this project. Reclaimed wood has so many things going for it: it's well weathered and has stood the test of time, it's an eco-friendly up-cycled material, and it's got fantastic character and history. Some of the timbers used on this project were shaped in the 1800s by the hands of early settlers.
As in any project with reclaimed wood, there were a few challenges in working with it. The salvage, cleaning, and milling processes are far more intense than for new wood, so we had to be particularly careful with ordering and cutting because we couldn't just go pick up more wood at the local shop if we made a mistake. We also needed skilled craftsmen for the installation: each piece was completely unique and had to be studied, cut, and installed with a skilled eye.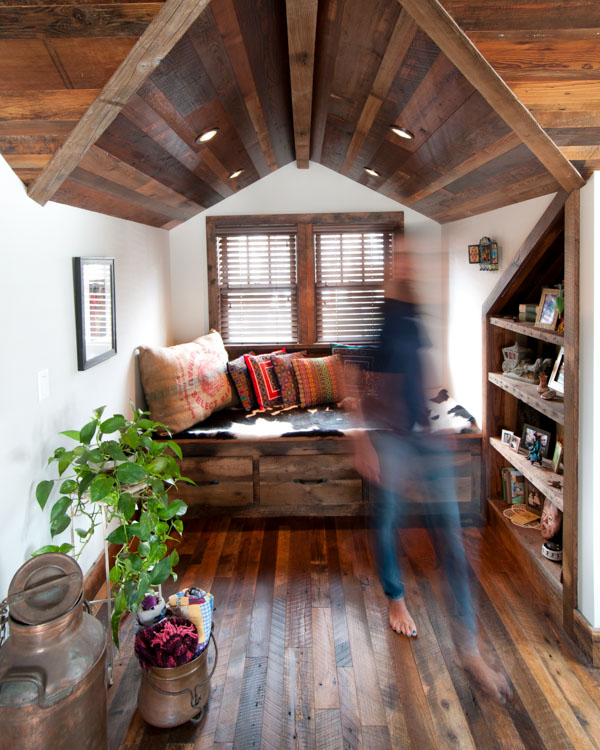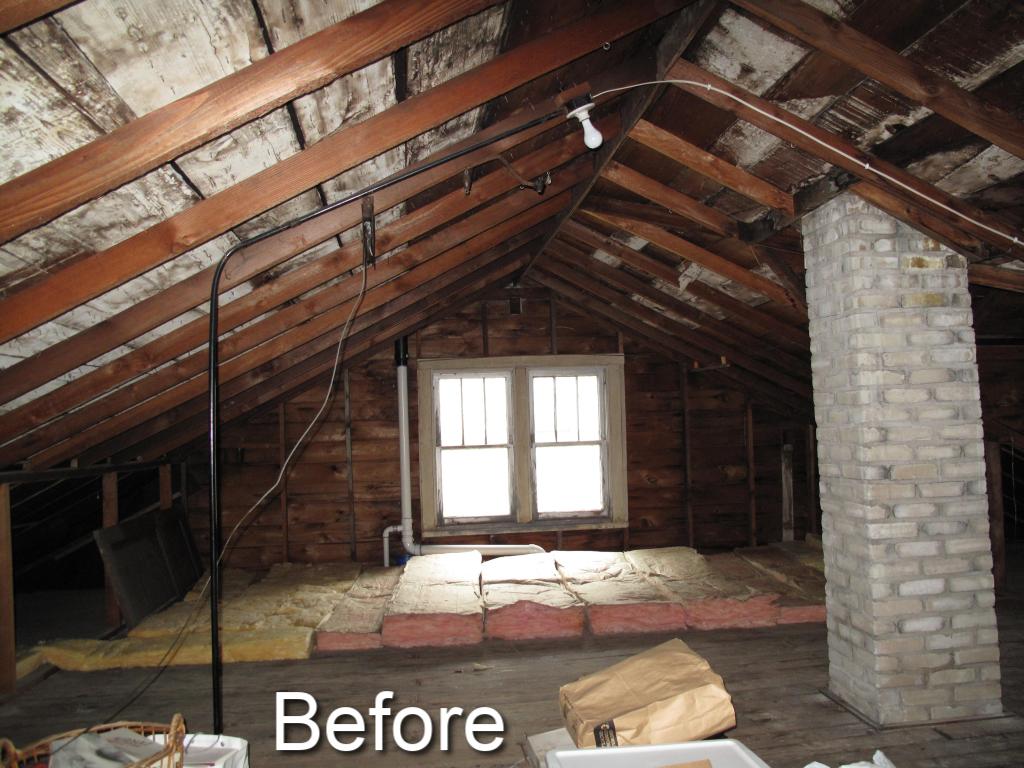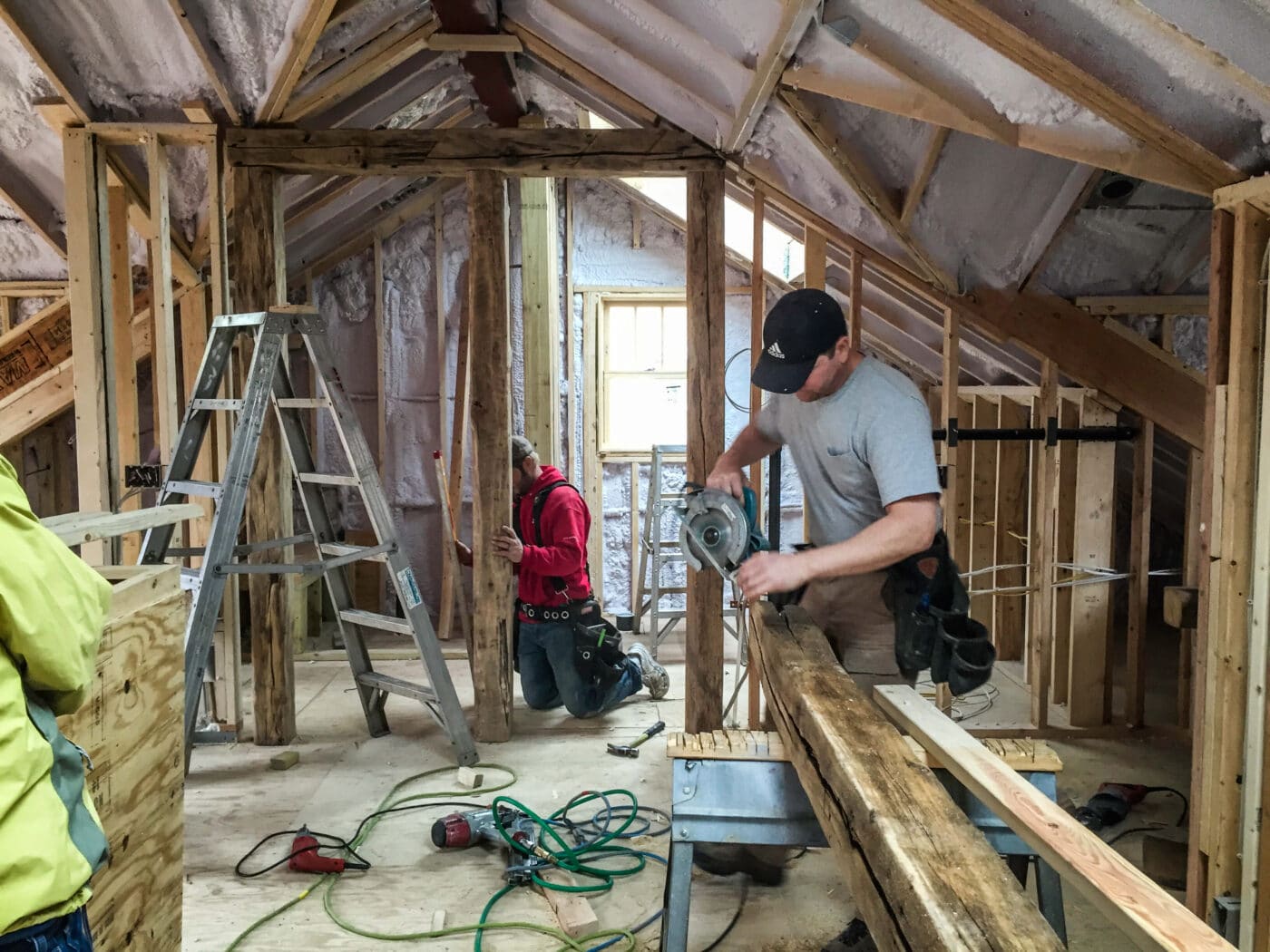 Light and Nature
It was important to Leila to feel a strong connection to the natural world outside while maintaining privacy in key areas. We installed double French doors in her bedroom, opening to a balcony overlooking a garden oasis, pond, waterfall, and paved patio below. Three large skylights were placed strategically within the space to provide balanced sources of light and to open the roof to the skies above. A small dormer at the front brings balance to a larger dormer at the rear and provides great airflow.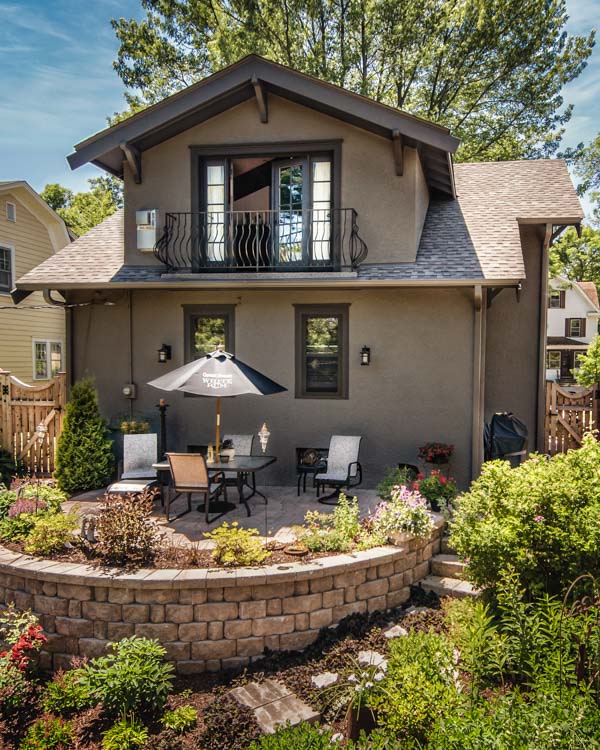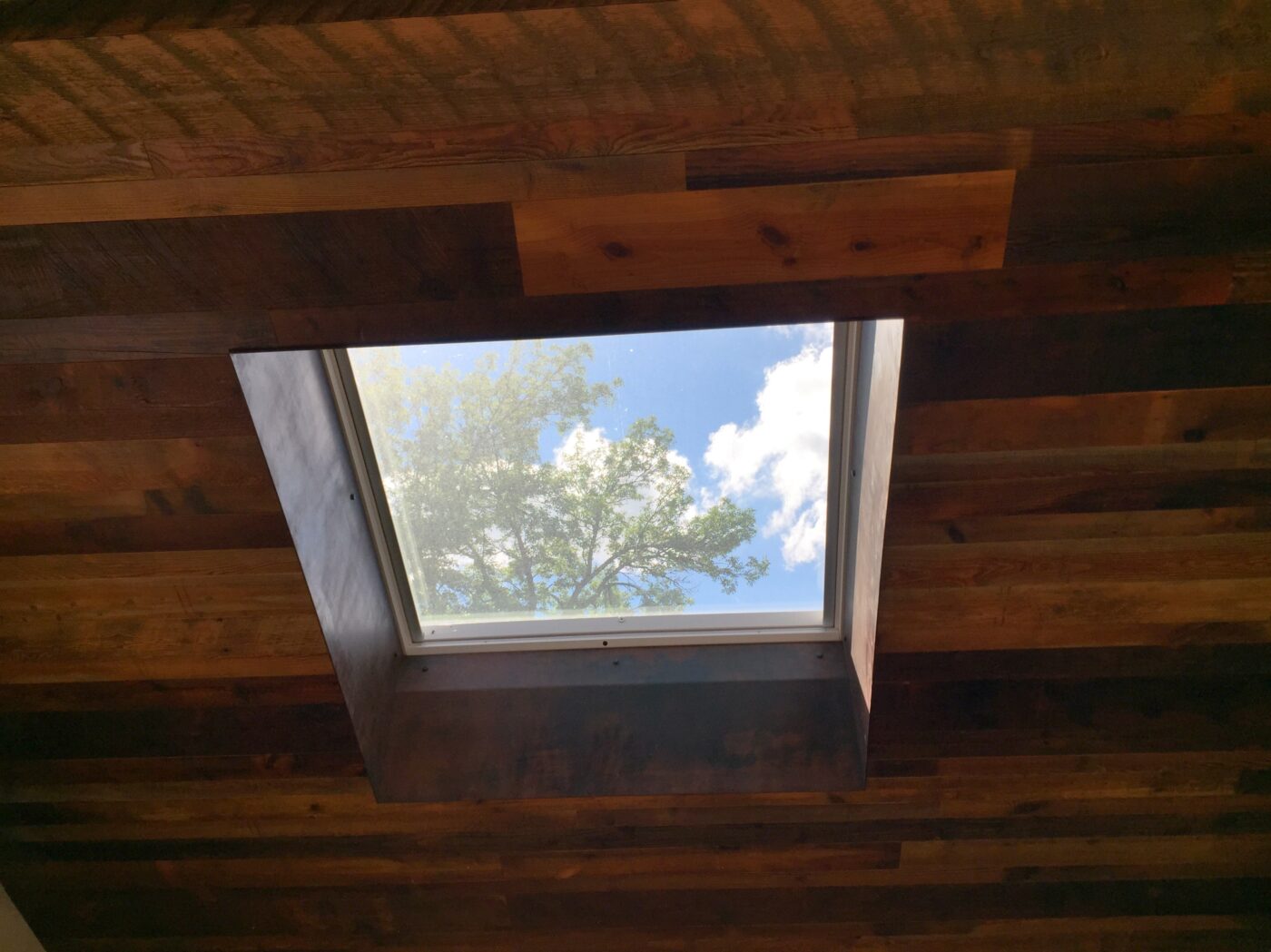 Creative Details
Custom acid-oxidized metal lines the deep skylight openings, complementing the steel railing and adding some interest to an otherwise uninspiring surface
Steel cabinet insets match the railing panels and help integrate spaces
Cabinetry is made from the same reclaimed hardwood as the floors
Bathroom barn door entryway echoes the barns where the reclaimed wood originated
The shower was designed to feel relaxing and naturalistic, with porcelain tiles resembling rustic wood and a micro-pebble floor